"Aunt Jo"
JOSEPHINE RITA KINGSTON
Josephine Rita Kingston, known as Jo or Joey, was born February 9, 1925 in Hammond, Indiana. She is the daughter of Martin Joseph (Joe) Kingston and Elizabeth Mary (Lizzie) Murphy, both from Southern Ireland.

After high school she attended St. Mary Mercy nursing school in Gary, Indiana and graduated as a Registered Nurse in 1946.

Jo retired from her nursing career on May 1, 1987 from Camp Pendleton, USMC base in Oceanside, California, as a civil service employee.
Jo never married
and devoted her life to caring for her parents,
plus helped her sister (nickname "Paddy") care for her four children,
then helped Paddy's two daughters, Beth and Bonnie, raise their children.
After retirement,
Joey loved to play Indian bingo seven nights a week
with her oxygen at her side.
She went out of her way to make sure that her bingo friends always had transportation.
Jo had nine lives and used each life to the max.
She was a true fighter to the end.
Joey died September 13, 2001.
She never asked anyone for anything even when in pain.
She always tried to please the family.
Josie and Gene

The family called her "Aunt Joey," or "Aunt Jo, and her brother Gene called her "Little Sister" or "Josie".

Josie was also the nickname that her father's Ireland family called her dad, but the Hammond Fire Department called her father "Casey."
| | |
| --- | --- |
| Jo , we all love you dearly and will let you go to rest in peace with your mom, dad, sister, and brother. We know that you are watching us from heaven with God at your side. | |
"She Was All To Us"
by Virginia "Windrich" Swan
© 9-13-2001
When we were little and had done a misdeed --- All Yelled --- She explained with love in her eyes.
As we grew to adults, again she was there to help raise our children with wisdom and we too learned.
The years rolled on with happiness, sadness, ups and downs. She was there with a steady hand and understanding.
Through the years her body became ever more frail but she continued ministering to others until that tired body ceased to exist.
She left this world on September 13, 2001. Going to a pain free safety, warmth, and love in a better world to join her loved ones who had gone before.
We will not let Aunt Joey down. We will always be the person she loved. We will live a life that she would be proud of.
She was our aunt, second Mother and always our best friend.
She was all to us, we will miss her so.
MISS ME
BUT, LET ME GO

When I come to the end of the road
And the sun has set for me,
I want no rites in a gloom-filled room,
Why cry for a soul set free.
Miss me a little, but not too long,
And not with your head bowed low.
Remember the love that we once shared,
Miss me, but let me go.

For this is a journey we all must take,
And each must go alone.
It's all a part of life's plan,
A step on the road to home.
When you are lonely and sick at heart,
Go to the family and friends we know,
And bury your sorrows in doing good deeds,
Miss me, but let me go.
Lizzie and Joe Kingston

Joey's
mom and dad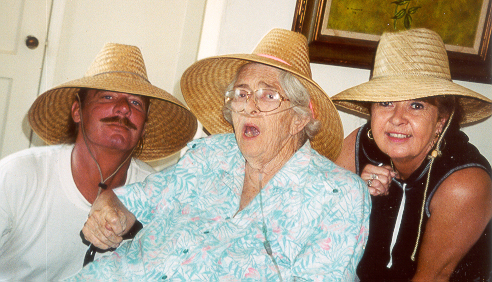 Our Gal Jo, -- Jo with her nephew Jack on left and her niece Bonnie on the right.
This was 'Hat' day for taking pictures.
Our Aunt Jo was a remarkable woman in all situations and respects. Besides caring for her parents she helped raise her sister Paddy's four children and always knew what they were going to do before getting into mischievous situations. Her sister's children could never outguess Jo's moral strength.
Jo, the four of us will forever love and admire you for all you did to help us.
Bonnie, Jack, Beth, Tim
Anyone that would like to add a tribute to Josephine "Aunt Jo" Kingston's passing, please
Sign the Guestbook

I would love to hear from you at: BonnieWMon@aol.com
The webmaster owes a huge gratitude of thanks
to Professor Kathleen Rippberger
for her help building some of this web page.
---
Other Exciting Sites:
"William Gordon Windrich - USMC Medal of Honor" By Bonnie 'Windrich' Monahan
"Homeless" By Bonnie 'Windrich' Monahan
"Our Souls Cry Out" By Virginia 'Windrich' Swan
"A Pony Called Dolly and a Boy Named Bill" By Virginia 'Windrich' Swan
"Daddy" By Shawn 'Willis' Durham
"Big Band Era and Swing" By Bonnie 'Windrich'Monahan