In Honor of S/Sgt. William G. Windrich, MOH - Korea
And
In memory of all the lost and killed men and women in the Korean Conflict.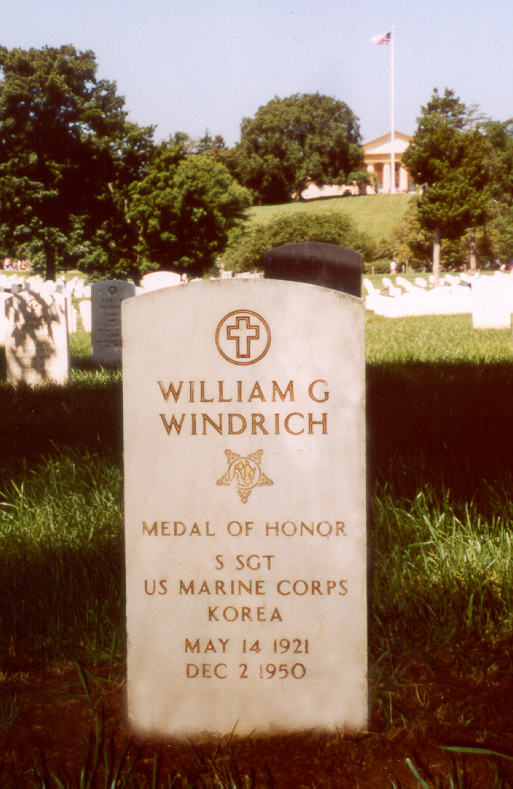 | | |
| --- | --- |
| These photos were taken June 2001 at the Korean War Memorial in Washington D.C. | |

Back to: S/Sgt William Windrich MOH page

View My Guestbook Sign My Guestbook

** The story and photo's have a © of 1994 to present date.

Many thanks to Bob Carr at: Marine Corps Medal of Honor AND

Chosin Few Historial Photo's

for sound on this page.

Below are other site of interest. Enjoy!

"From the Halls of Montezuma
to the Shores of Tripoli,
We fight our country's battles
On the land as on the sea.
First to fight for right and freedom,
And to keep our honor clean,
We are proud to claim the title
of United States Marine.

"Our flag's unfurl'd to every breeze
From dawn to setting sun;
We have fought in every clime and place
Where we could take a gun.
In the snow of far-off northern lands
And in sunny tropic scenes,
You will find us always on the job
The United States Marines.

"Here's health to you and to our Corps
Which we are proud to serve;
In many a strife we've fought for life
And never lost our nerve.
If the Army and the Navy
Ever look on Heaven's scenes,
They will find the streets are guarded
By United States Marines."

You can contact me at: BonnieWMon@aol.com
Other sites of interest:
Back to: S/Sgt William Windrich MOH page
"Our Souls Cry Out"
By Virginia 'Windrich' Swan
Pony Called Dolly and a Boy Named Bill By Virginia 'Windrich' Swan
Big Band Era and Swing By Bonnie 'Windrich' Monahan
Homeless People By Bonnie 'Windrich' Monahan
Homeless Web Page By Bonnie 'Windrich' Monahan
Aunt Joey By Bonnie 'Windrich' Monahan
"Daddy" Poem By Shawn 'Willis' Durham