A PONY CALLED DOLLY AND A BOY NAMED BILL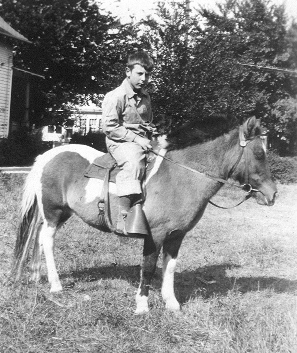 By Ginnie 'Virgina Windrich' Swan © 1998
A gift from our Dad, the brown and white pony was gorgeous, large and tall for that breed. I don't think Bill wasted more than a few moments before slinging the saddle blanket and saddle on its back and tightening all of the straps, while talking to it softly. Rubbing the velvety nose with a thumb he teased the bit of the bridle between its teeth and fastened those straps too. He mounted and off they went around the vacant lot next to our house. I couldn't believe what I had seen and what I was looking at then. To my knowledge he had never saddled or ridden before. Love at first sight, boy and pony were made for each other.
Through the years when Dad's job took us else where, the pony rode in the back of a large moving van, from Wisconsin to Indiana. People said it couldn't be done safely but between Bill and Dad it was done. Even the drivers were amazed; it was their first (pony) load. Maybe they too had a few good stories to tell later about that trip. Highland was the destination, with open unused fields across the road from our new home.
Bill made a harness from some old leather straps, hooked it all up to a sled pulled by the pony and away we went one snowy winter day. What a thrill. He learned to ride bareback, without a bridle (only the halter) and did that movie stuff of running and mounting while the pony was running. Must say he had some hard falls and the bruises to prove it before he got that trick down pat. The pony was faster than he was. As his kid sister I tried that stuff too and had far to many bruises for my efforts. I never accomplished much except to have great times with him and the pony named Dolly.
How wonderful to have had a big brother named Bill.
I hope you will enjoy the story about my big brother and his pony, Dolly.

I would love to hear from you: GSwan12345@aol.com
Sign My Guestbook
View My Guestbook
I feel that you will enjoy the links below.
"William Gordon Windrich - USMC Medal of Honor" By Bonnie 'Windrich' Monahan
Marine Corps Medal of Honor
Arlington National Cemetery

"Our Souls Cry Out" By Virginia 'Windrich' Swan
Big Band Era and Swing By Bonnie 'Windrich' Monahan
Homeless Web Page By Bonnie 'Windrich' Monahan
Aunt Joey By Bonnie 'Windrich' Monahan

"Daddy"

Poem By Shawn 'Willis' Durham
If there is a problem with this site notify the Webmaster at: BonnieWMon@aol.com