The skinny, wavy-haired kid in the bow tie started out singing on a Major Bowes amateur radio broadcast in 1937. His career gained momentum in the Big Band era under Harry James and Tommy Dorsey, and then took off like wildfire, going solo at the Paramount Theater in New York, where he opened on December 31, 1942. "Bobbysoxers" screamed in spontaneous delight, "jitterbugged" in the aisles, fainted left and right, crowded the stage door shrieking for his autograph, and spilled over into Times Square, snarling traffic to such a degree that a riot squad had to be called.
Bandleader Harry James, lying in bed one night during a stand at the New York's Paramount Theater, heard Sinatra singing on a dance-based broadcast from the Rustic Cabin. He looked up the unidentified vocalist and signed him. With the James band, Sinatra soon had his first recording hit, "All or Nothing at All."
Tommy Dorsey went to hear Sinatra singing with the James band at the Sherman Hotel in Chicago and hired him away at $125 a week. With Dorsey's orchestra, he made more than 80 recordings between 1940 and 1942. Among them were "I'll Never Smile Again," "Street of Dreams," "There Are Such Things," "Stardust," "Let's Get Away From It All," and "This Love of Mine."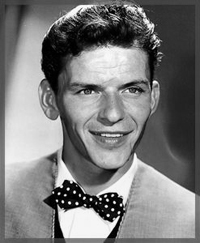 <! - - 3 PARAGRAPHS BELOW - CHANGE FONT COLOR & SIZE - - >

Baby Blue Eye's in his youth.

Frank Sinatra sang for enthusiastic crowds around the world.

In later years his residence in Las Vegas was only one of his homes, or get a ways.